To the 50th anniversary of the launch vehicle Cyclone-2 first launch


Source: «Yuzhnoye State Design Office»
It was 50 years ago (August 6, 1969), when first successful launch of the Cyclone-2 (11K69) lightweight launch vehicle took place from Baikonur Cosmodrome, Kazakhstan. It was developed by SDO "Yuzhnoye" based on military missile R-36orb 8К69.
The launch was successful thanks to SDO's "Yuzhnoye" team of specialists and young test technical manager L.D. Kuchma. They have emerged with dignity from the dramatic situation during the prelaunch operations.
From the memories of the launch vehicle Cyclone-2 first launch participant Nikolay Sorokin:
"On august 5, 1969, there was hot at Baikonur: more than 30°C in the morning, 40°C in the midday, and there was calm. Prelaunch operations of the first launch of the modified launch vehicle Cyclone-2 were carried out. Rocket filling was begun what was the most demanding operation. For security reasons, a decision was made to fill propellant components separately: oxidizer first, fuel then. On a sudden — oxidizer overflow at first stage tank due to onboard monitoring system failure. Nitric acid (oxidizer base material) floods concrete site, corrode cable insulation. Propellant filling was begun. There was failure again: overflow at first stage tank. Pops was sounded — it was fire started due to use of the self-igniting propellant components.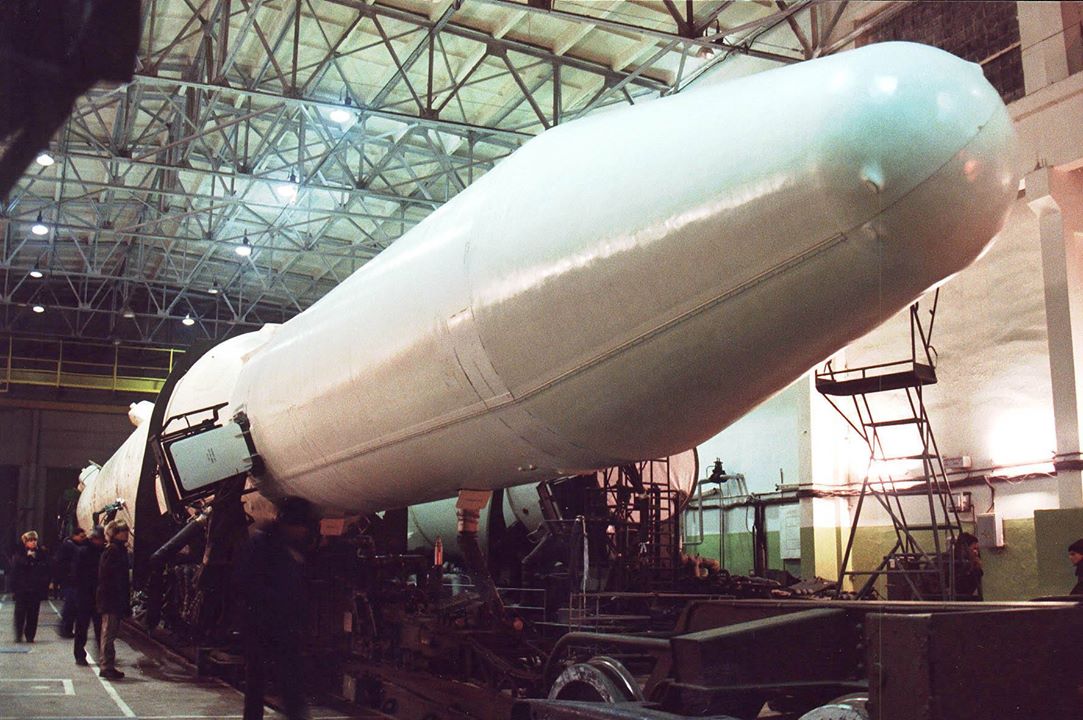 It was well known what fire during rocket launch is. In few seconds special transport standing near the fence was took off like the wind. Launch crew was worked in a sealed bunker. That is why individual gas masks were piled up. But when fire was started, people began to took gas masks and there was shortage: "It's mine!" — "No, it's mine!". Chemist officer bringed more gas masks. Everybody calmed down. By this time, Vitaliy Bely had returned to the bunker. He checked how bad cables were burned. Only clasps were left of his sandals, soles were «eaten» by nitric acid. Emergency gates were opened at the observation post. Drivers of the State Commission members were lined up, deforming fenders and bumpers, yet according to the ranks of their passengers. Luckily, launch pad fire extinguishing system has worked efficiently. Disaster was prevented… Leonid Kuchma commands to halt filling and immediately creates working group to find out the causes of the event.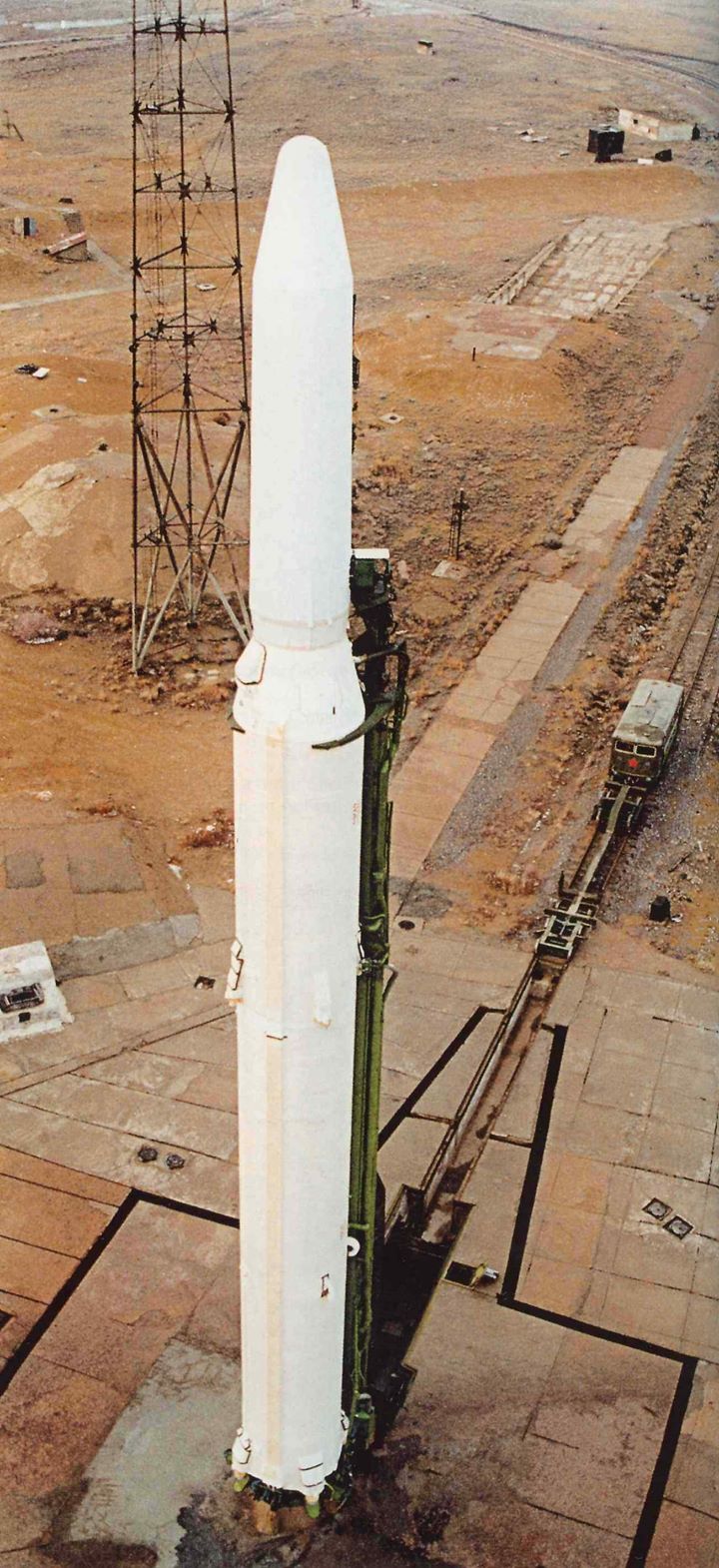 Meanwhile the rocket «breathed» heavily on the launch pad. Clouds of caustic red steam steaming from vent valves. What does it means? Is it «severe illness» or just «common cold»? Analysis showed that three tanks are filled and after the filling of second stage fuel tank, the rocket will be ready to launch. What if monitoring system will failed, as with the first stage, and rocket had to be filled «blindly»? It was very difficult to make a decision to continue tests because due to absence of information about amount of ullage an error may occur when calculating pressure ratio in the second stage tanks, and then deformation of the intermediate bottom will cause self-ignition of the propellant components. The result will be an explosion of such a force that only adjacent concrete strip will be left from launch pad. In that case, tests will be delayed for many years. If rocket will be launched with underfilled tank, the engine may be burnt due to excess flow of oxidizer. A disaster too.
Testers worked without breaks for dinner or supper, they assessed, made a conclusions, predictions about tests continuing. We did not hide anything nor from each other, nor from others. Then we, like test manager Leonid Kuchma, were 30-35 years old and no one could even think that launch vehicle complex tests delay may be at hand for someone. It turned out that satellite system developers were lagged far behind launch vehicle developers. There was their representative amongst State Commission for Flight Tests. After the first meeting, we understood what could be price of our openness.
Next morning, after the sleepless night, testers gathered around test manager:
— I have contacted to Dnepropetrovsk at night. Mikhail Kuzmich was absent and his deputies thinks: failure is present, tests have to be halted, and launch vehicle have to be sent to factory. However, if we find the possibility to continue test then this conversation was never happened regardless of the result… And responsibility will be ours.
— I think tests should go on. Failure may vanish on its way to factory. I believe the guys. We can fill the tank «blindly». — Alexey Mikhaltsov, tester, as always speaks slowly, making a pause after each word.
— If we want spacecraft to make at least one orbit pass, we need to fill just 600 liters. I checked all calculations myself. We have a reserve. We have to launch. — ballistic specialist Edward Kompaneyets was a test follower. He talked with everyone during the night, convincing everyone.
— 600 — it's too much. What if ullage will be lesser than permissible? Second stage engine will not ignit. Vehicle will be emergency destructed, so what we all have worked for? — Mark Voloshin, who is responsible for propellant supply system, can be understood: his questions are most important to make a decision.
— Thermostating system works fine, but the fuel in tanks for a day have been warmed up to more than allowable 20°C… Of course, I know that engine have been tested for higher supercritical temperature, yet… This is my first time at testing ground, especially in such a situation…
The duty officer interrupted meeting: "It is 30 minutes to State Commission meeting".
Test manager knows situation well and figured everything out. He already decided for himself to continue tests, yet he did not felt complete unanimity in his team. Moreover, he could not count on support in the State Commission. There was only one State Commission member by his side — representative of SPA «Electropribor» from Kharkov Gennady Ignatiev. Head of Baikonur testing ground Testing Department colonel Peter Baturin joined them a few minutes later.
State Commission meets for more than two hours. Leonid Kuchma was keynote and sole speaker. Everybody demands security assurances for everything from speaker. They demands to check every issued document (calculations, findings) ones more".
Final documents were signed by Leonid Kuchma, Vasily Avramchenko, Stanislav Averkov, Vitaliy Bely, Mark Voloshin, Evgeny Karastoyanov, Nikolay Kovalenko, Eduard Kompaniets, Vladimir Molchanov, Alexey Mikhaltsov, Nikolai Sorokin…
Mikhail Ivanovich Galas shared his impressions from this critical moment:
"As always in such a challenging off-nominal situations there are doubts, hasty proposals. And questions, questions… There are ones who is doubted … After waiting a bit, Leonid Kuchma stands. It felt like nerves were tense. "Discussions are over. We will launch it"- he says. He turns to me — I'm nod. He stands and go out to car. Everybody followed him silently. Leonid Danilovich confidently waddled on the asphalt. "What a strong leader arises in your SDO", — cosmodrome chief of staff general Dashkevich says to me".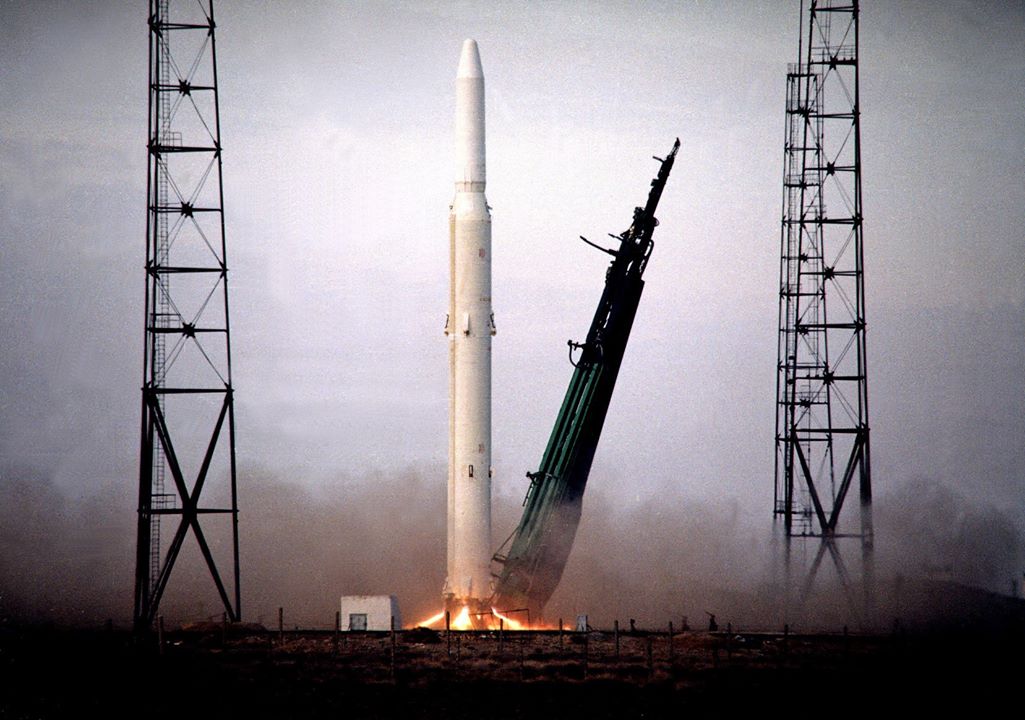 August 6, 1969, there was first launch of the launch vehicle Cyclone-2 with the dummy of SC IS-M (Kosmos-291) developed for missile defense system
Thanks to the skillful work of the testers, launch vehicle was successfully launched. However, the side thrusters of the satellite-target IS-M developed by CDBM has failed and it was stand still in intermediate orbit, unusable for further tests. Satellite-interceptor's launch has been canceled. There was unplanned rest time for launch vehicle developers…
Success come in a year. On October 20, 1970, satellite-target Kosmos-373 was launched into the Earth orbit by launch vehicle Cyclone-2. After three days, October 23, satellite-interceptor Kosmos-374 was launched. After it had been launched into the Earth orbit, satellite detection radio units SD-1 (Irkutsk) and SD-2 (Balkhash) has specified parameters of the target and interceptor during the first orbit pass, then they have transmitted it to interceptor. Kosmos-374 had performed maneuver, detected target with the help of the seeker during the second orbit pass, closed in and imitated its destruction.
In a week, October 30, one more satellite-interceptor was launched. It entirely reproduced all actions of Kosmos-374. Thus, "enemy satellite's" double destruction imitation was done and launch team demonstrated the capabilities of operational preparations for the launch of Cyclone-2, new launch vehicle developed by SDO "Yuzhnoye".
Launch of the Cyclone-2 launch vehicle with the Cosmos-2421 spacecraft
Launch vehicle: Cyclone-2, Baikonur Cosmodrome.
Date - 06/25/2006 (10h 00min - Moscow time)
Filming of the Roskosmos television studio and the press service of the FCK Baikonur
For the first time in the history of the rocket and space technology, there was developed launch vehicle complex with fully automated launch vehicle prelaunch operations, what was the result of the large amount of research and development activities.
Launch vehicle Cyclone-2 was intended to launch different purposes serving spacecraft to low altitude circular and elliptical Earth orbits, including open ones.


Launch vehicle Cyclone-2 lay-out diagram
High reliability and the ability to make an automated launch at any time of the day and in all weather conditions are the special features of this launch vehicle.
Launch vehicle Cyclone-2 main technical characteristics
Number of stages
:
2
Dimensions, mm:
— length
:
39000
— body diameter
:
3000
— fairing diameter
:
2200
Starting weight (with payload weight, t), t
:
183
Fuel components:
— oxidizer
:
nitric tertoxide
— fuel
:
unbalanced
dimethylhydrazine
Engine thrust in the void, tf:
— I stage
:
303,2
— II stage
:
101,5
Payload mass put into orbit, t
:
1,5 - 5
For the last time it was launched in June 2006.
This launch vehicle is a kind of record holder in the history of the rocket and space technology: it was launched 106 times and all of them was successful.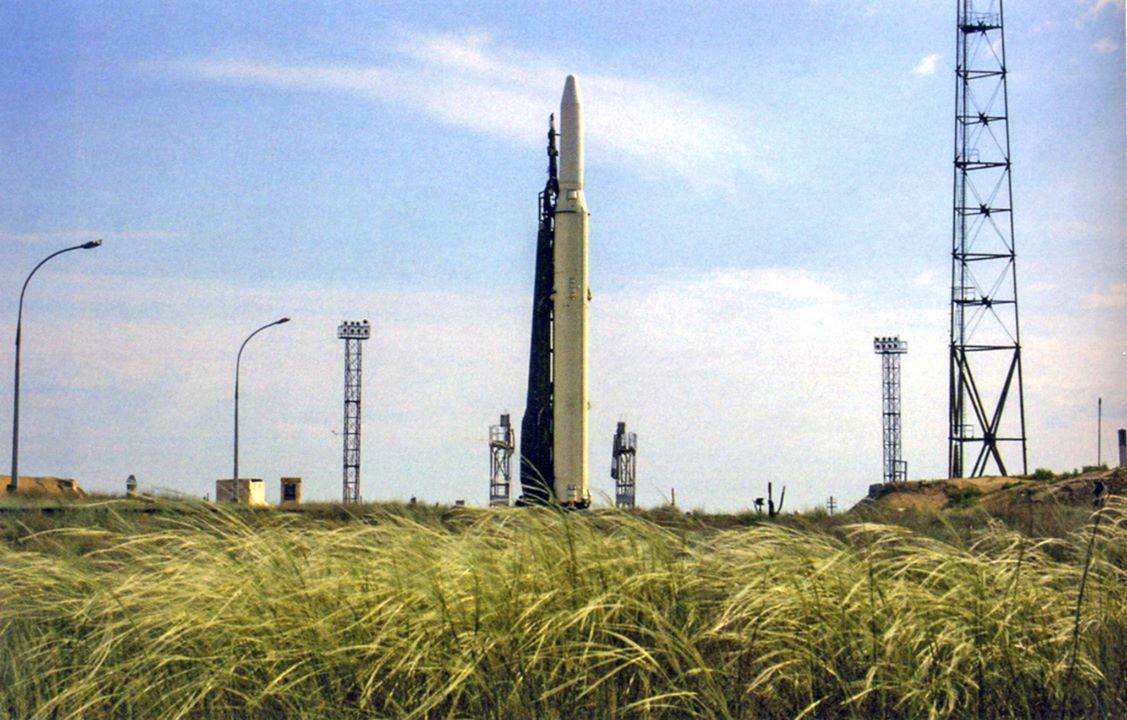 Record holder launch vehicle Cyclone-2

Our comment.

It has been 50 years since the day of the Cyclone-2 rocket maiden launch - the world record-holder of the rocket engineering: all 106 launches of this rocket were successful. On August 6, 1969 Cyclone-2 rocket put into orbit the military-oriented spacecraft- ABM system satellite killer.

The history of development of one of the world's most reliable launch vehicles began in August 1965, when the government regulation on development of the carrier rocket based on the orbital rocket was adopted. And in March 1966 the preliminary design of the 11К69 space launch system (SLS) was developed (Cyclone-2). Thus for the first time in history of the rocket engineering the space launch system with all-around 100 % automated prelaunch countdown cycle was developed, featuring the original technology of rocket prelaunch processing involving the transporter-erector, equipped with automatic mating mechanisms for pneumatic, hydraulic- and electrical utility lines.

11К69 SLS was developed by Yuzhnoye SDO jointly with design bureau of transport machine building and NPO Electropribor. It was deployed at the Baikonur cosmodrome.

Cyclone-2 rocket length was 39 m, diameter - 3 m. It was light-class two-stage rocket, designed to launch various purpose spacecraft into the low circular and elliptical near-Earth orbits, including open orbits. Cyclone-2 rocket could put into orbit 1500-5000 kg of payload.

Cyclone-2 Stage I propulsion system incorporated three Energomash-developed main two-chamber engines and one Yuzhnoye-developed four-chamber steering engine. Stage II featured Energomash-developed main two-chamber engine and Yuzhnoye-developed steering four-chamber engine. All engines were powered by liquid hypergolic propellant with high-boiling propellants. NPO Electropribor developed rocket's autonomous inertial control system.

From 1969 to 1982, in the interests of counteraction to space objects 11К69 rockets orbited 3 spacecraft-targets and 18 satellite-interceptors. Objects were intercepted at up to 1000 km altitude.

Cyclone-2 made history of the world rocket building as one of the most reliable launch vehicles, second to none to this day.